FireWire
(redirected from 1394b)
Also found in:
Dictionary
.
firewire
[

′fir'wīr

]

(computer science)
FireWire
Officially the IEEE 1394 High Performance Serial Bus (HPSB), FireWire is a high-speed interface mostly developed and promoted by Apple for video transmission. Introduced in 2000, FireWire was added to camcorders and a variety of A/V equipment. Even early iPods could connect via FireWire. Still included on Mac laptop and desktop computers, modern camcorders have replaced FireWire with USB, HDMI and other video outputs.

FireWire 400 and 800
FireWire 400 is limited to a distance of 4.5 meters. In 2003, FireWire 800 increased the range to 100 meters and doubled the transfer rate. FireWire supports 63 devices, real-time data transfer, hot swapping and simultaneous multiple speeds. The faster 1600 and 3200 versions never got into production.


FIREWIRE VERSION TRANSFER RATES1394a - 4.5 METER CABLE LENGTH

  FW400     400 Mbps


  1394b - 100 METER CABLE LENGTH

  FW800     800 Mbps
  FW1600   1600 Mbps
  FW3200   3200 Mbps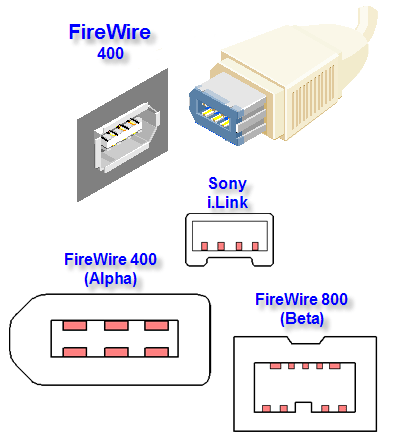 FireWire Sockets and Compatibility
FW800 is backward compatible with FW400. One end of a "bilingual cable" has an FW800 plug, while the other end is FW400. Sony's i.Link is a miniaturized socket that connects to cables with i.Link, FW400 or FW800 at the other end.
Easy to Tell
FireWire cables are easily distinguished from their USB counterparts.

Dual Mode FW/USB
This external hard drive can connect to the computer via FireWire or USB, whichever cable is plugged in.