2K TV
2K TV
The most common type of HDTV set, which has a screen resolution of 1,920 horizontal and 1,080 vertical pixels (1080p). Computer monitors are also widely available in this resolution. Since the arrival of 4K TVs, the "2K" is used as a designation in order to contrast a regular 2K HDTV from a 4K Ultra HD set. See 1080p, 4K TV and DTV.


High-Definition Resolutions2K    1920x1080 (see  DTV)

   4K    3840x2160 (see  4K TV)

   5K    5120x2880 (see  5K monitor)

   6K    6144x3160 (see  6K resolution)

   8K    7680x4320 (see  8K TV)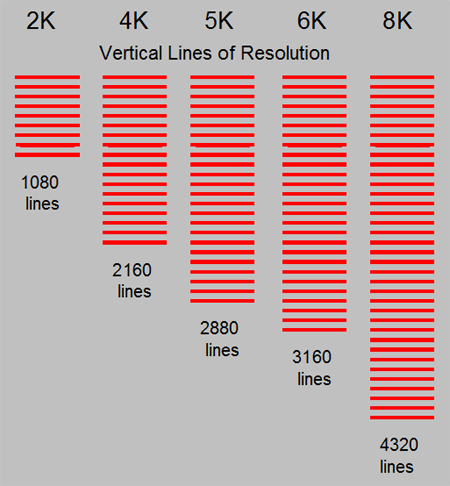 Lines of Resolution
This shows the relative difference in monitor/TV vertical resolutions.