4K TV
(redirected from 4K HDTV)
4K TV
A TV set with a screen resolution of 3,840 horizontal and 2,160 vertical pixels (2160p), also called "Ultra HD." All 4K TVs upscale DVD, Blu-ray and cable TV content to 2160p, which depending on the source material and TV, may or may not provide better visual quality than a standard 2K TV (1080p).

Native Content Makes a Huge Difference
When 4K TVs emerged in 2012, Sony offered a small number of 4K feature films on a hard disk player for its 84" TVs and subsequently offered a paid download service. As of 2016, cable and satellite providers are just beginning to offer set-top boxes that support 4K.

4K TVs Make Passive 3D TVs Better
Although passive 3D TVs have 1,080 lines of resolution, 540 lines are dedicated to each eye. With the 4K's 2,160 lines, a passive 4K 3D TV is able to provide the full 1080p resolution to each eye (see 4K 3D TV). See 4K resolution, 4K upscaling, 4K pass-through, 4K monitor and 2K TV.


High-Definition Resolutions2K    1920x1080 (see  DTV)

   4K    3840x2160

   5K    5120x2880 (see  5K monitor)

   6K    6144x3160 (see  6K resolution)

   8K    7680x4320 (see  8K TV)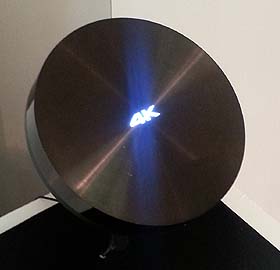 Sony FMP-X1 4K Media Player
In 2013, Sony announced its 4K movie download service and FMP-X1 media player. Ten inches in diameter with USB ports and an SD Card slot, the unit's 2TB hard drive comes preloaded with 10 feature films.