A/V receiver
(redirected from Audio/Video Receiver)
Also found in:
Acronyms
.
A/V receiver
(Audio/Video receiver) A combination audio amplifier and audio/video switching device for a home theater. It contains inputs for all the audio and video sources and outputs to one or more sets of speakers and one or more monitors (without a tuner) or TVs. It may also include an AM/FM tuner as well as inputs for external video and audio sources such as a camcorder or digital music player.

Receivers Have Amplifiers
Although an A/V receiver has its own amplifiersfor powering the speakers, it generally provides optional outputs to external audio amplifiers if more power is required. See home theater, stereo receiver, digital media hub and digital media server.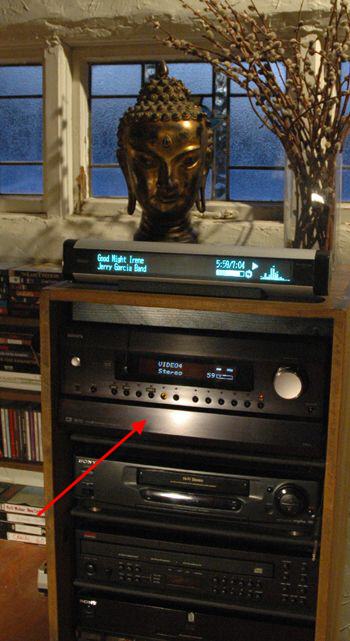 Home Theater Components
The A/V receiver (red arrow) switches between all the audio and video sources in this home theater. It also powers the speakers in the living room and provides outputs to an amplifier for another room. Many A/V receivers can power two or more zones without the need of a separate amplifier.