brutalism
(redirected from Brutalist architecture)
Also found in:
Dictionary
,
Wikipedia
.
brutalism
an austere style of architecture characterized by emphasis on such structural materials as undressed concrete and unconcealed service pipes
http://students.open.ac.uk/open2net/modernity/4_15.htm
www.skyscrapers.com/re/en/ab/ds/pd/bu/ca/sy/mo/br
Brutalism
(1945–1960)

An uncompromisingly modern style which was expressed in large scale using raw and exposed materials emphasizing stark forms. It was distinguished by its weighty, textured surfaces and massiveness; created mainly by large areas of patterned concrete. Windows consist of tiny openings, and the combination of voids and solids gave walls an egg-crate appearance. Mechanical systems are left exposed on the interior of the bare structure.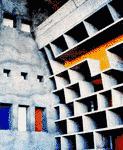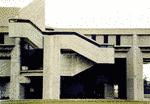 Brutalism
(also new brutalism), a trend in modern architecture. It originated with the architects Alison and Peter Smithson (husband and wife) in the middle of the 1950's in Great Britain and spread to the countries of Western Europe, the USA, and Japan. It has no clearly defined theory. The brutalists strive to create architecture in which aesthetic qualities are determined by crude, obviously heavy forms and exposed structures and engineering systems of buildings. Examples include the school at Hunstanton, 1949-54, and the building housing the editorial offices of the London Economist, 1964; both by A. and P. Smithson; the Marchiondi Institute in Milan, 1959, by V. Vigano; and the Halen Siedlung near Bern, 1961.
REFERENCE
Tasalov, V. Prometei ili Orfei. Moscow, 1967. Pages 227-30.
Brutalism, New Brutalism
A style of modern architecture, primarily in the 1960s, emphasizing heavy, monumental, stark concrete forms and raw surfaces; may show patterns of the rough wood formwork used in casting the concrete (
béton brut
). Buildings in this style are often suggestive of massive sculptures.