point of sale
(redirected from Check-out counter)
Also found in:
Dictionary
.
Related to Check-out counter:
checkout counter
point of sale
Capturing data at the time and place of sale. Point of sale (POS) systems can use regular computers or specialized terminals that are combined with cash registers, barcode scanners, magnetic stripe readers and chip readers for accurately and instantly capturing the transaction.

POS systems may be online to a central computer for credit checking and inventory updating, or they may be stand-alone machines that store the daily transactions until they can be delivered or transmitted to the main computer for processing. See card reader, keyboard wedge and self checkout.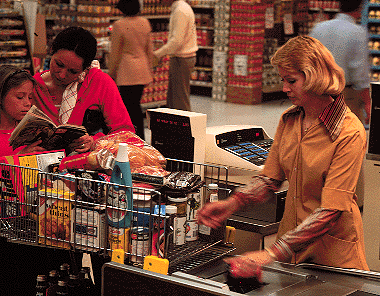 Point of Sale
Busy supermarkets would be hard pressed to keep up with the traffic if it were not for barcode readers and point of sale systems. Do we even remember the days without them? (Image courtesy of Sweda International AB.)