Chromebook
(redirected from Chrome PC)
Chromebook
A laptop that runs Google's Chrome operating system and Chrome Web browser. Providing a total Web-based operating environment, all applications are downloaded from the Web, and although an Internet connection is mandatory, some apps may run offline as well. Chromebooks boot up fast and require minimal user configuration. They also come with Google's office suite (see Google Docs). See Chrome OS and Chrome browser.

Designed for the Cloud
With user data stored on Google servers (see Google Drive), Chromebooks are essentially a laptop with a Chrome Web browser. In 2011, the first units from Samsung and Acer featured 16GB solid state disks. Dell, Toshiba and Lenovo followed, and storage was increased to 32GB in a few models and up to 64GB in Google's own high-end Chromebook, which debuted in 2013 (see Chromebook Pixel). Although this limited storage was deemed adequate for a cloud-based machine, SD Cards can be plugged into most Chromebooks (see SD Card).

Not Local Network Friendly
As of 2015, Chromebooks do not recognize other computers in the local network for file sharing. To see local files on Macs and Windows PCs, a third-party Web server must be set up, which is hardly a "one-click operation."

The Chrome "Box"
In 2012, Google introduced the Chromebox desktop model, offering the same functionality as the Chromebook in a mini PC footprint. The Chromebox includes a faster CPU and ports for a monitor, mouse and keyboard. See mini PC.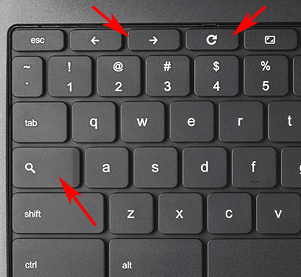 A Chromebook Keyboard
Some, but not all, Chromebooks have dedicated Web browsing keys, such as the Back, Forward and Reload buttons on the top row of this Acer keyboard. Caps Lock was replaced with a Search key.