colonnade
(redirected from Collonade)
Also found in:
Dictionary
,
Thesaurus
,
Wikipedia
.
colonnade
(kŏlənād`)

, a row of columns usually supporting a roof. Colonnades were popular with the Greeks and Romans, who employed them in the stoastoa
, in ancient Greek architecture, an extended, roofed colonnade on a street or square. Early examples consisted of a simple open-fronted shed or porch with a roof sloping from the back wall to the row of columns along the front.
.....

Click the link for more information.

and the porticoportico
, roofed space using columns or posts, generally included between a wall and a row of columns or between two rows of columns. In Greece the stoa was a portico of the first type; in Greek temples porticoes terminated the front and rear ends of the naos—called
.....

Click the link for more information.

; they have continued to be used throughout the Middle Ages, the Renaissance, and modern times. See columncolumn,
vertical architectural support, circular or polygonal in plan. A column is generally at least four or five times as high as its diameter or width; stubbier freestanding masses of masonry are usually called piers or pillars, particularly those with a rectangular plan.
.....

Click the link for more information.

.
Colonnade
a row or rows of columns supporting a horizontal roof structure. Outdoor colonnades, which are either porticoes or galleries, are usually attached to a building to unify its isolated elements (for example, the Palladian villas). A colonnade also visually relates a building to its courtyard or square (for example, the colonnade of the Kazan Cathedral, Leningrad, 1801–11, architect A. N. Voronikhin) and its natural setting. Some colonnades are independent structures, such as the Colonnade of Apollo in Pavlovsk (1780–83, architect C. Cameron). Interior colonnades usually surround large halls, serving both to divide and unite various parts of a grand interior (for example, the colonnade in the former Catherine Hall in the Tauride Palace, Leningrad, 1783–89, architect I. E. Starov).
colonnade
[

'käl·ə′nād

]

(architecture)

A series of columns placed at regular intervals.
colonnade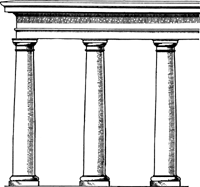 A number of columns arranged in order, at intervals called
intercolumniation
, supporting an entablature and usually one side of a roof.
colonnade
1. a set of evenly-spaced columns
2. a row of regularly spaced trees