control rod
(redirected from Control rods)
Also found in:
Dictionary
,
Thesaurus
.
Related to Control rods:
fuel rods
control rod
[

kən′trōl 'räd

]

(nucleonics)

Any rod used to control the reactivity of a nuclear reactor; may be a fuel rod or part of the moderator; in a thermal reactor, commonly a neutron absorber. Also known as absorbing rod.
control rod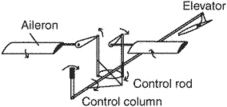 A push-pull rod for actuating controls from the cockpit. Control rods are used in manually operated flight control systems.