denial of service attack
(redirected from DOS attack)
Also found in:
Dictionary
,
Wikipedia
.
denial of service attack
An assault on a network that floods it with so many requests that regular traffic is either slowed or completely interrupted. Unlike a virus or worm, which can cause severe damage to databases, a denial of service attack interrupts network service for some period.

Distributed Attack
A distributed denial of service (DDOS) attack can employ hundreds or even thousands of computers that have been previously infected. The computers act as "zombies" and work together to send out bogus messages, thereby creating huge volumes of phony traffic. See smurf attack, SYN flood attack, land attack, teardrop attack and Ping of Death.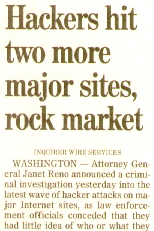 Hackers Caused a Denial of Service
Computers with high-speed connections to the Internet were hacked and planted with illicit programs that, when activated, sent out an unending number of requests and caused a denial of service at Yahoo, eBay, Amazon.com and other Web sites during the second week of February 2000. (Article headline courtesy of the Philadelphia Inquirer.)