DVR
Also found in:
Dictionary
,
Thesaurus
,
Medical
,
Legal
,
Acronyms
,
Wikipedia
.
DVR
(1) (Digital Video Recorder) A security system device that records the video from up to 16 surveillance cameras on a hard disk. The frame rate can be switched from real time to time lapse in order to save disk space. Digital recorders are more flexible than earlier analog VHS tape systems, and the video can be easily transmitted over a computer network.

(2) (Digital Video Recorder) Also known as a "personal video recorder" (PVR) or "hard disk recorder," a DVR is a consumer device that allows the viewer to pause and rewind any broadcast, cable or satellite TV program as well as record and play back selected programs (see live pause). An order of magnitude more flexible than VCRs, an entire season of programs from one or more favorite series can be recorded.

DVRs may work in tandem with the set-top box, or replace the box using plug-in modules (see CableCARD). They store incoming digital TV signals on the hard disk as well as digitize analog TV for storage in MPEG-2 format. The video data is stored in an encrypted format.

DVRs first came on the market in 1999 with products from ReplayTV and TiVo (www.tivo.com). They quickly made the VCR obsolete for timeshifting TV programs, and Tivo became the DVR leader. ReplayTV was later acquired by SONICblue, D&M Holdings and eventually the DIRECTV satellite TV service (www.directv.com).

Stand-Alone or Part of the Service
The DVR periodically downloads new program channel guide updates as well as software updates for the unit itself. When the DVR is integrated into the cable or satellite set-top box, the downloads ride the same medium as the TV service. When the DVR is a stand-alone device or is built into an A/V receiver or TV, the downloads come in over a telephone line or the Internet via a home network. See cloud DVR, multi-room DVR sharing, live pause, DVD recorder and networked DVR. Contrast with NVR.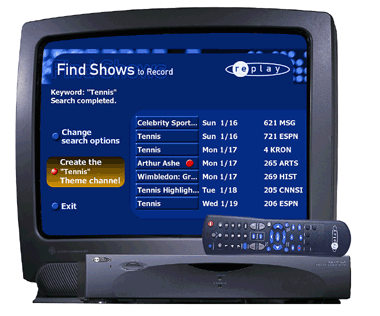 ReplayTV
This earlier DVR from ReplayTV appears in front of the Find Shows screen, which enables a viewer to search for programming throughout the week by keyword. (Image courtesy of ReplayTV.)