eddy
(redirected from Eddie)
Also found in:
Dictionary
,
Thesaurus
,
Acronyms
,
Wikipedia
.
eddy
a movement in a stream of air, water, or other fluid in which the current doubles back on itself causing a miniature whirlwind or whirlpool
---
Eddy
Mary Baker. 1821--1910, US religious leader; founder of the Christian Science movement (1866)
eddy
[

′ed·ē

]

(fluid mechanics)

A vortexlike motion of a fluid running contrary to the main current.
eddy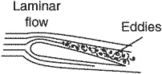 i
. A local irregularity in wind-producing gusts and lulls. Small-scale eddies produce turbulent conditions.
ii
. The more or less circular motion produced by an obstruction in the path of moving fluid, such as against a streamlined flow on an uneven or nonstreamlined surface or in an area where there is a sudden rise in pressure. In fluids, any circulation drawing its energy from a flow of a much larger scale and brought about by pressure irregularities.