Frequency Pulling
frequency pulling
[

′frē·kwən·sē 'pu̇l·iŋ

]

(electronics)

A change in the frequency of an oscillator due to a change in load impedance.
Frequency Pulling
the dependence of the trequency of self-oscillations in a two-resonator oscillatory system (Figure 1) on the direction of the change in the tuning of one of the resonators. As Ω1 increases, the oscillator frequency ω increases from O toward A, and when Ω1 decreases, ω decreases from C toward B. At the points A and B an abrupt change in the frequency occurs (the dotted arrows).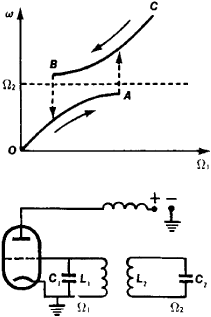 Frequency pulling takes place when the frequencies Ω1 and (Ω2 are close together. It is used in technology to stabilize the frequency of single-resonator oscillators (such as a klystron). In this case the oscillator is connected to a supplementary resonator with a high quality factor. Owing to the frequency pulling the oscillator frequency ω is maintained close to the frequency of the supplementary resonator Ω2. [9-1151-4; updated]