Chromecast
(redirected from Google streaming device)
Chromecast
A wireless streaming device from Google. Introduced in 2013, Ethernet was later added with an adapter. Chromecast streams content to the TV from Netflix, YouTube, Google Play, Spotify and the Chrome browser via the Google Cast extension. The remote control is the user's smartphone, tablet or computer, whereby content is selected and "cast" to the TV (see casting). At USD $35, the first batch of units sold out immediately. The second-generation model lets users watch the video on the TV while listening to the audio on headphones plugged into their mobile device. In addition, high-res music support (see 96/24) was added along with multi-room capability by plugging Chromecast units into two or more speaker systems.

Music Via Chromecast
Songs can also be "cast" to the TV's speakers via Google Play Music apps from Android and iOS devices. However, Google introduced Chromecast Audio in 2015 that works with any non-wireless powered speaker. See Chromecast Audio.

Chromecast Vs. Android TV
The initial release of Chromecast offered Netflix and YouTube as the only third-party movie/video providers; however, more media sources were later added. Android TV, on the other hand, is Google's second-generation set-top box and smart TV platform, and it also runs regular Android apps. See Android TV, Nexus Player and HDMI dongle.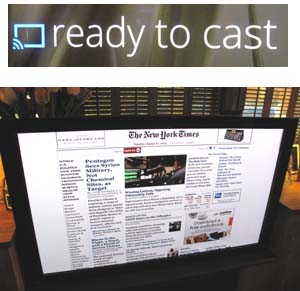 Ready to Cast
Chromecast is always in a ready state waiting for movies/videos, music or Web pages to be "cast" from the user's phone, tablet or computer to the TV.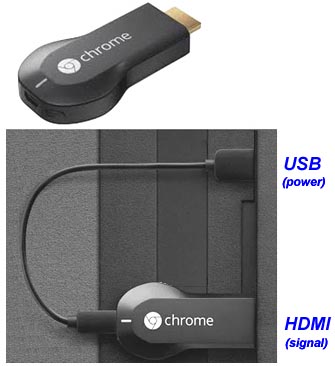 USB for Power; HDMI for Signal
Power comes from a USB port, and this photo shows one next to the HDMI input, but the USB may not be so conveniently located (see image below). (Image courtesy of Google Inc.)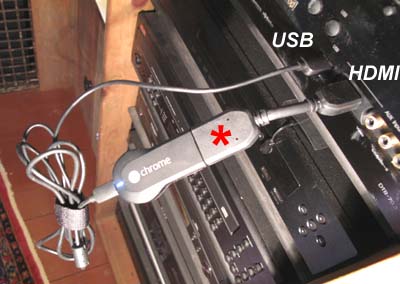 The Real World
Not as elegant as the vendor photo above (real implementations rarely are), this Chromecast is plugged into the front HDMI and USB jacks of an A/V receiver. The Wi-Fi extender (red asterisk) improves reception.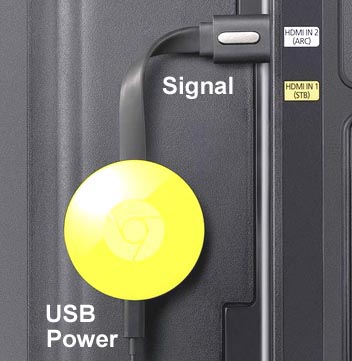 Second-Generation Chromecast
The second-generation model has improved Wi-Fi reception but also has an optional Ethernet adapter. (Image courtesy of Google.)