helipad
(redirected from Helicopter pad)
Also found in:
Dictionary
,
Medical
.
Related to Helicopter pad:
helipad
,
Helicopter landing pad
helipad
[

′hel·ə'pad

]

(civil engineering)

The launch and landing area of a heliport. Also known as pad.
helipad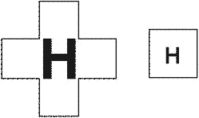 A small, designated area, usually with a prepared surface, on a heliport, airport, landing/takeoff area, apron/ramp, or movement area used for takeoff, landing, or parking helicopters. A helipad includes a touchdown area, hover point touchdown, or hover point. A helipad is denoted by the letter
H
.