honeycomb
(redirected from Honey combs)
Also found in:
Dictionary
,
Thesaurus
,
Medical
.
honeycomb
1. a waxy structure, constructed by bees in a hive, that consists of adjacent hexagonal cells in which honey is stored, eggs are laid, and larvae develop
Honeycomb
a wax structure built by honeybees for nesting, sheltering their brood, and storing food (honey and beebread). A honeycomb consists of hexagonal prismatic cells arranged on both sides of a common partition, which may be artificial. Four different types of cells are distinguished: worker bee cells, drone cells, transition cells, and queen cells. A honeycomb in a standard hive frame consists of 140–150 g of wax. About 13 mg of wax are used to construct a worker bee cell, and about 30 mg are needed for a drone cell. The size of a honeycomb depends on the shape and size of a hive frame; the honeycombs are arranged vertically in the hive. Honeycombs in standard frames may contain as much as 4 kg of honey. The honeycomb is the most perfect structure built by insects.
honeycomb
[

′hən·ē'kōm

]

(invertebrate zoology)

A mass of wax cells in the form of hexagonal prisms constructed by honeybees for their brood and honey.
honeycomb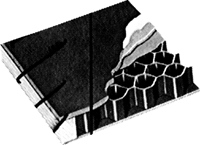 1. Any hexagonal structure or pattern, or one resembling such a structure or pattern.
2. Voids left in concrete owing to failure of the mortar to fill effectively the spaces among coarse aggregate particles.
3. A type of flaw in metal caused by corrosion or imperfect casting.
honeycomb

A low-density structural technique and material based on a hexagon-cell honeycomb sandwiched between two sheets that are too thin to be stable alone. A honeycomb can be made from aluminum foil, fiberglass, or paper. Such a structure has practically no strength against side loads, but it has exceptional strength against loads applied in line with its openings.