Kindle Fire
Also found in:
Dictionary
,
Thesaurus
,
Medical
,
Legal
,
Financial
.
Related to Kindle Fire:
amazon
Kindle Fire
An Android tablet from Amazon.com that includes a built-in portal to Amazon's vast collection of music, videos, e-books and merchandise. It debuted in 2011 with a 7" screen at USD $199; considerably less costly than other tablets at the time. The Fire uses Amazon's Silk Web browser, which shares processing with the server to make page retrieval faster. See Android and AOSP.

Kindle Fire users must download their apps from Amazon, and software publishers must distribute their apps to Amazon separate and apart from their distribution on Google's online store (see Google Play).

Kindle Fire HD and HDX
In 2012, the wider, lighter and thinner Kindle Fire HD increased screen resolution from 1024x600 to 1280x800 pixels. The Fire HD is faster and has dual speakers rather than one.

In 2013, the Fire HDX increased battery life and resolution to 1920x1200 pixels, boosting the pixel density from 216 to 323 ppi.

Kindle Fire Vs. Kindle E-Book Reader
Like all tablet computers, the Fire's battery life is measured in hours, whereas battery life on the Kindle e-book readers is measured in days and weeks due to its monochrome E Ink screen. In addition, the Kindle reader can be viewed in direct sunlight. However, the Fire's color images make it an excellent e-reader for young children, and as long as battery and glare are not issues, the Fire is an all-in-one tablet, e-reader and Amazon shopping portal. See Kindle and Fire TV.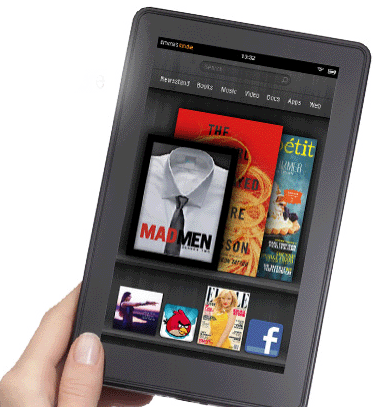 The Kindle Fire
The Fire is a unique Android tablet, because it offers the user a quick way to choose from the vast array of media and products from Amazon.com. (Image courtesy of Amazon.com)