Lightning connector
Also found in:
Dictionary
,
Thesaurus
,
Medical
.
Lightning connector
A reversible 8-pin plug and socket for Apple mobile devices (the plug is inserted in either orientation). Introduced in 2012 with the iPhone 5 and new iPods, Lightning superseded the 30-pin dock connector that dates back to 2001. Countless venues with 30-pin charging cables and myriad 30-pin docks have been adapted or updated.

No More Analog
The 8-pin Lightning is all digital, whereas the 30-pin interface includes three analog audio lines. Although adapters let 30-pin cables plug into Lightning sockets, any device expecting analog signals will not work. For example, some car audio systems use the analog lines to transfer sound to the car's sound system. However, like every other mobile device, all Apple products have the standard 3.5mm earphones jack that connects to the analog inputs on every stereo or boom box (see mini-phone connector). See Apple dock connector.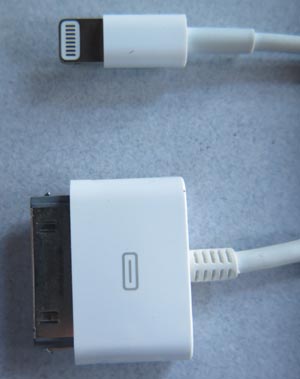 No Comparison
The 8-pin Lightning (top) takes up a lot less space than the 30-pin connector. In addition, there is no wrong way to insert the plug. See USB Type C for a reversible connector aimed at the future.