Microsoft store
Microsoft store
(1) Online stores from Microsoft for downloading Windows desktop and phone applications. See Windows Store and Windows Phone Store.

(2) A website from Microsoft for selling Windows PCs, tablets and phones and Xbox products. The successor to the Windows Marketplace site, the Microsoft online store (www.microsoftstore.com) features more PCs than Microsoft's retail outlets (definition below).

(3) A Microsoft-owned retail outlet. The first stores opened in Scottsdale, Arizona and Mission Viejo, California in late 2009. By early 2013, there were more than 60 stores in operation. Demos and technical assistance are available, along with hands-on testing of PCs, smartphones, tablets, Xboxes, software and related products. See Signature PC.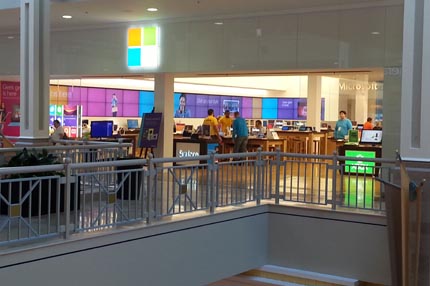 A Microsoft Store
This store in the Bridgewater Commons mall in New Jersey is an example of the sleek style Microsoft chose to offer its products.