study
(redirected from Open-label study)
Also found in:
Dictionary
,
Thesaurus
,
Medical
,
Legal
.
Related to Open-label study:
Prospective study
,
Double blind study
study
1. a drawing, sculpture, etc., executed for practice or in preparation for another work
2. a musical composition intended to develop one aspect of performing technique
3. Theatre a person who memorizes a part in the manner specified
study
A drawing executed as an educational exercise, produced as a preliminary to a final work or made record observations.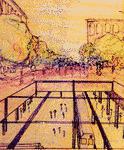 See also: Design drawing
study
1. A room or alcove of a house or apartment used primarily as a place for reading, writing, and study. It often embodies the features of a private office and private library.
2. A preliminary sketch or drawing to facilitate the development of a design.