Tar Paper
Also found in:
Dictionary
,
Thesaurus
,
Wikipedia
.
Related to Tar Paper:
Roofing felt
tar paper
[

′tär 'pā·pər

]

(materials)

Heavy construction paper coated or impregnated with tar.
Tar Paper
a rolled roofing and waterproofing material obtained by treating roofing cardboard with tar. In the USSR, tar paper is produced either with a mineral coating (usually sand) or plain. Tar paper is less durable than asphalt roofing materials, and therefore it is used mainly for roofing temporary structures. Because of its water-repellent quality and resistance to putrefaction, tar paper is used for waterproofing and as a vapor barrier during building construction. Tar paper is available in the USSR in widths of 750,1,000, and 1,025 mm.
asphalt prepared roofing, asphaltic felt, cold-process roofing, prepared roofing, rolled roofing, rolled strip roofing, roofing felt, sanded bituminous felt, saturated felt, self-finished roofing felt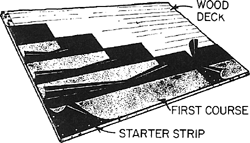 A roofing material manufactured by saturating a dry felt with asphalt and then coating the saturated felt with a harder asphalt mixed with a fine mineral, glass-fiber, asbestos, or organic stabilizer; available in the form of rolls. All or part of the weather side may be covered with mineral granules or with powdered talc or mica. The reverse side is covered with a material suitable to prevent sticking in the roll. The