USB drive kit
USB drive kit
A do-it-yourself kit for creating a stand-alone hard disk drive that connects via the USB port. The kit contains a frame to which a standard IDE drive is mounted and connected, using the same power and signal cables as if it were installed inside a PC. The frame is pushed into a case, and the drive is ready.

Drive kits are also available for connecting via FireWire and eSATA, the latter using a SATA drive rather than an IDE drive. See USB drive adapter and portable hard drive.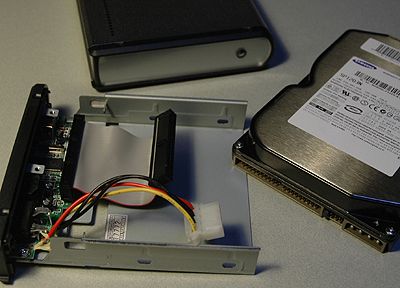 The Drive Kit
A regular hard disk mounts inside the drive kit just as it would inside a PC.