Windows 10
Also found in:
Dictionary
,
Thesaurus
,
Medical
,
Legal
,
Financial
.
Windows 10
The latest version of Windows, introduced in 2015. Tablet apps can run in a window just like desktop apps rather than only full screen as in Windows 8, and the user interface automatically adjusts for hybrid and convertible laptops (see Continuum). Windows 10 integrated the Cortana virtual assistant, and the Windows 7 Start menu was brought back in combination with Windows 8 live tiles for a new appearance in Desktop mode. As of 2019, there were approximately 700 million Windows 10 users worldwide. See live tiles, Cortana and Windows 10 on ARM.

Users can combine apps into different desktop views, and there is more continuity between Microsoft's desktop, phone, tablet and Xbox platforms. A new Web browser comes with Windows 10 along with the venerable Internet Explorer (see Edge browser).

A Free Upgrade to Win10
Pundits concur that Windows 8 should have been designed like Windows 10. The loss of the Windows 7 Start menu in Windows 8, and the dramatic difference between the touchscreen tablet and desktop interfaces created a steeper learning curve than many organizations wanted to undergo. Windows 10 offers a smoother melding of the tablet and desktop, although the tablet interface is still a choice (see Win10 Tablet mode).

In order to encourage migration, existing Windows 7 and 8.1 users were able to upgrade to 10 for free until July 29, 2016. An upgrade for Windows Phone 8.1 to Windows 10 Mobile was also available.

Anniversary Update
In 2016, Microsoft debuted a major update to Windows 10 (see Windows 10 Anniversary Update). See Windows 10 versions, Windows Mixed Reality, Windows versions and Windows Phone.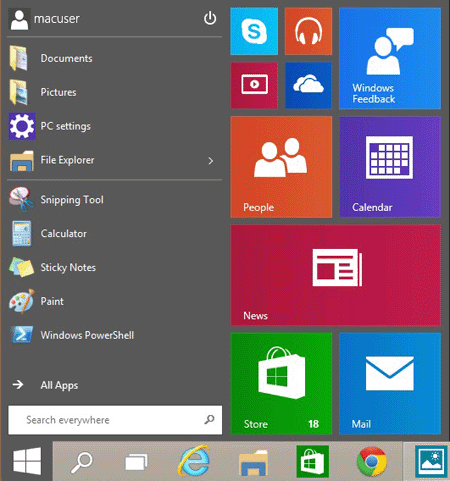 Windows 10 Start Menu
In Desktop mode, Windows 10 combined the All apps and tile menus, which were separate screens in Windows 8. This example is the original Windows 10 Start menu. It was changed in the 2016 Anniversary Update (see Win10 Start menu).