mean point of impact
(redirected from average point of impact)
Also found in:
Dictionary
,
Medical
.
mean point of impact
[

′mēn ′pȯint əv ′im'pakt

]

(ordnance)

The point which is at the geometrical center of all the points of impact of the several shots of a salvo, excluding wild shots; when firing time-fused projectiles, the point of detonation of such a projectile is considered to be the point of impact.
mean point of impact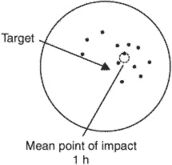 The arithmetic means of points of impacts of all the weapons launched against the same aiming point.