butterfly hinge
butterfly hinge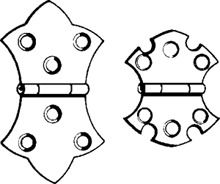 A decorative hinge having the appearance of a butterfly.
References in periodicals archive
?
My window, barely attached by its
butterfly hinge
, still reveals the shabby green awnings across the street.
There are plastic dolly light switches and jelly mould light switches and
butterfly hinges
and beehive hat pegs and lion's head door knockers.