control valve
Also found in:
Acronyms
,
Wikipedia
.
control valve
[

kən′trōl 'valv

]

(engineering)

A valve which controls pressure, volume, or flow direction in a fluid transmission system.
control valve
Any
valve
used to regulate fluid flow.
control valve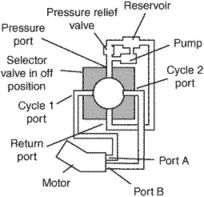 A component in the hydraulic system that enables an operator to direct the fluid from the pump to either end of the jack as desired. It further permits expelled fluid from the other end of the jack to return to the reservoir. On some systems, it is designed to permit the system to idle at low pressure by providing a connection between the pump delivery and the reservoir when the control valve is in a neutral position.
control valve
A device that modulates the flow of fluid in a conduit in response to a signal from a process measurement control system.