tablet
(redirected from fluoride tablet)
Also found in:
Dictionary
,
Thesaurus
,
Medical
.
tablet
1. a medicinal formulation made of a compressed powdered substance containing an active drug and excipients
2. a slab of stone, wood, etc., esp one formerly used for inscriptions
3. NZ a token giving right of way to the driver of a train on a single line section
Tablet
A rectangular separate panel or flat slab, often bearing an inscription or carving of an image.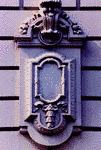 Tablet
a solid dosage form of medication. Tablets are manufactured commercially by molding or compressing medicinal substances combined with such neutral substances as sugar, starch, sodium chloride, talc, and alcohol. Some types of tablets are coated.
tablet
1. A regularly shaped, separate panel, or a representation thereof, often bearing an inscription or image.
3. A plaque, often inscribed and carved, usually affixed to a wall surface or set into the surface; sometimes used to serve as a memorial or to commemorate a special event.
TABLET
A
query language
.
["Human Factor Comparison of a Procedural and a Non-procedural Query Language", C. Welty et al, ACM Trans Database Sys 6(4):626-649 (Dec 1981)].