gaming PC
Also found in:
Dictionary
,
Legal
,
Wikipedia
.
gaming PC
A high-end Windows PC that is suited for gaming. Although available ready built, it is often custom made for the serious enthusiast. Gaming PCs have the fastest CPU and GPU chips that are, at least, no more than one generation behind. Typically using a tower case to accommodate multiple drives and state-of-the-art graphics cards that are often much larger than the norm, such machines may use elaborate cooling mechanisms, especially if the CPU is overclocked. Ready-built gaming laptops are also on the market.

Do Gaming PCs Support VR Headsets?
A high-end gaming PC may be quite adequate. However, VR platforms such as Oculus Rift use an enormous amount of CPU processing. In addition, they need a large number of ports (see VR ready). See overclock, GPU, APU, multi-GPU, gaming and video game console.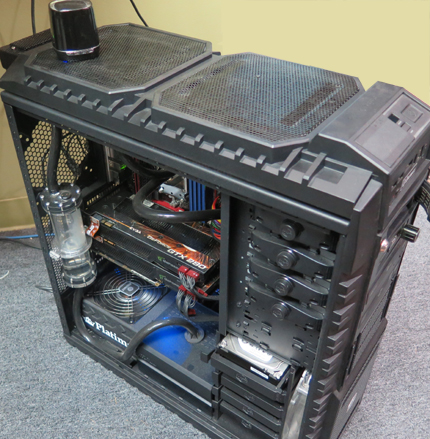 A Gaming Monster
This state-of-the-art gaming PC is water cooled and uses two high-end NVIDIA graphics cards. (Images courtesy of Tony Forliano, Dtown Tech, www.dtowntech.com)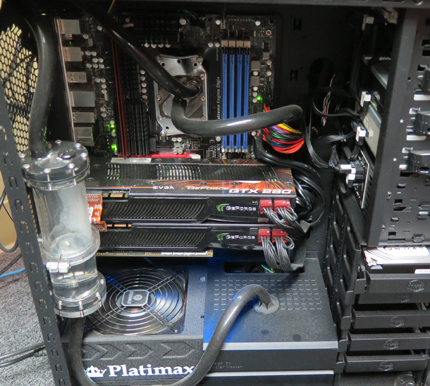 A Gaming Monster
This state-of-the-art gaming PC is water cooled and uses two high-end NVIDIA graphics cards. (Images courtesy of Tony Forliano, Dtown Tech, www.dtowntech.com)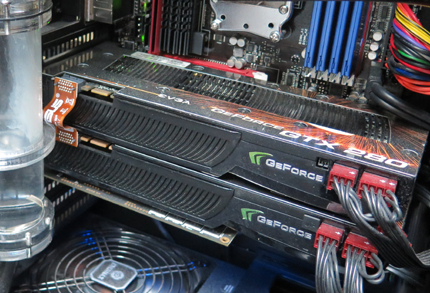 A Gaming Monster
This state-of-the-art gaming PC is water cooled and uses two high-end NVIDIA graphics cards. (Images courtesy of Tony Forliano, Dtown Tech, www.dtowntech.com)