geodesic
Also found in:
Dictionary
,
Thesaurus
,
Wikipedia
.
Related to geodesic:
Geodesic distance
,
Geodesic sphere
geodesic
1. relating to or involving the geometry of curved surfaces
2. the shortest line between two points on a curved or plane surface
geodesic
[

¦jē·ə¦des·ik

]

(mathematics)

A curve joining two points in a Riemannian manifold which has minimum length.
geodesic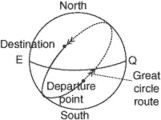 The shortest distance between two points on any surface. The shortest distance between two places on earth derived mathematically is called a
geodetic line
.