iPad 2
Also found in:
Dictionary
.
iPad 2
Apple's second-generation iPad, introduced in March 2011. The thinner, faster iPad added two cameras for video calling over Wi-Fi. With a dual-core CPU, faster graphics, a gyro and accelerometer, it was better at gaming than the iPad 1. Three ounces lighter, memory was increased from 256MB to 512MB, but storage capacities remained unchanged (16-64GB). Designed for video calling and printing small photos, the rear-facing camera was only one megapixel, compared to five on other tablets and smartphones. A Digital AV Adapter enabled everything on screen to display on a TV set via HDMI. In the iPad 1, only apps programmed to support an external display would work. See iPad and Smart Cover.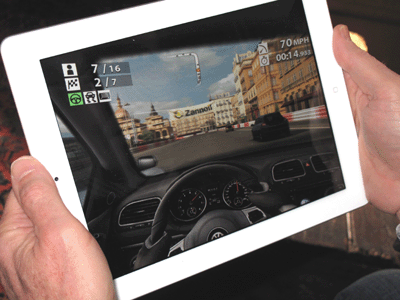 Much Faster for Games
The faster CPU in the iPad 2 showed up in games such as Real Racing 2 HD. Turning was done by moving the iPad like a steering wheel.