lotiform
lotiform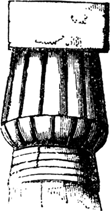 Having the shape of a lotus bud or flower, as used in some Egyptian column capitals.
References in periodicals archive
?
A similar process is illustrated by the recent discovery of a
lotiform
pillar capital, which is currently the base of a Sivalinga (phallic embodiment of the god Siva) in the Hindu Nageshwarnath temple (FIGURE 3).
I also gratefully acknowledge Dilip Chakrabarti for drawing my attention to the `Mauryan'
lotiform
capital discussed in the text.