storage chip
Also found in:
Dictionary
,
Legal
.
storage chip
A semiconductor circuit that holds data until purposely erased. Flash memory is the predominant technology for solid state storage because it can be erased although not as quickly as a hard disk.

ROM and programmable ROM (PROM) chips hold their data permanently and cannot be changed. Erasable PROMs (EPROMS) can be erased manually after they are removed, while electrically erasable PROMs (EEPROMs) can be erased in place. EEPROMs were the precursor to flash memory. See storage vs. memory, flash memory, ROM, PROM, EPROM, EEPROM and solid state drive.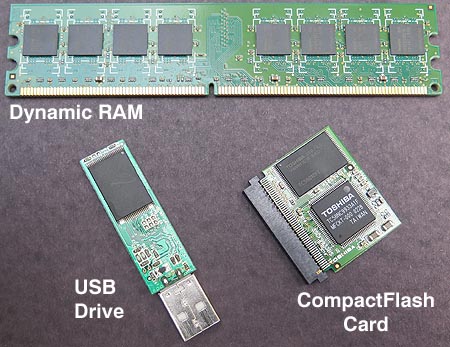 RAM and Storage Chips
The memory module holds dynamic RAM memory chips. The USB drive and CompactFlash card have their covers removed to expose their flash memory chips.