Green roof
(redirected from "vegetated roof")
Also found in:
Dictionary
.
green roof
[

′grēn ¦rüf

]

(mining engineering)

A mine roof which has not broken down or which shows no sign of taking weight.

McGraw-Hill Dictionary of Scientific & Technical Terms, 6E, Copyright © 2003 by The McGraw-Hill Companies, Inc.
Green roof
A roof system in which living plants are maintained in a growing medium using a membrane and drainage system. Green roofs can reduce stormwater runoff, moderate temperatures in and around the building by providing insulation and reducing the heat island effect, as well as provide a habitat for wildlife and recreational space for humans. When properly constructed, green roofs increase roof durability, because the roof assembly's air and water barriers are buffered from temperature fluctuations and UV exposure. Green roofs are considered a sustainable building strategy in that they have the capacity to reduce stormwater runoff from a site, modulate temperatures in and around the building, have thermal insulating properties, can provide habitat for wildlife and open space for humans, and contain other benefits as well. Green roofs help to invest in the protection of the environment by diminishing developmental impact on communities while providing a fresh approach with visually appealing organic architecture, a potentially ideal union of aesthetics, economics, and ecology.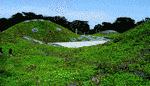 Illustrated Dictionary of Architecture Copyright © 2012, 2002, 1998 by The McGraw-Hill Companies, Inc. All rights reserved