OLPC
(redirected from $100 Laptop)
OLPC
(One Laptop per Child, Cambridge, MA, www.laptop.org) A research initiative of MIT Media Labs devoted to the creation of a $100 PC for educating children in developing countries around the world. Founded in 2005 by Nicholas Negroponte, OLPC laptops are geared to the educational ministries of governments that can purchase thousands of units at a time.

Taiwan-based Quanta Computer was selected as the original design manufacturer (ODM), and manufacturing began in late 2007. Although $100 was the target, a manufacturing cost of about $190 was announced for the first run of 300,000 units, a smaller order than anticipated.

Unexpected Competition
Although orders for millions of OLPCs were expected by 2007, Intel persuaded several countries to use its own low-cost PC (see Classmate). Negroponte admonished Intel for interfering with his non-profit venture to help the poor. Soon after, Intel joined OLPC's board to help design future products but withdrew in 2008. For details about OLPC models, see XO computer.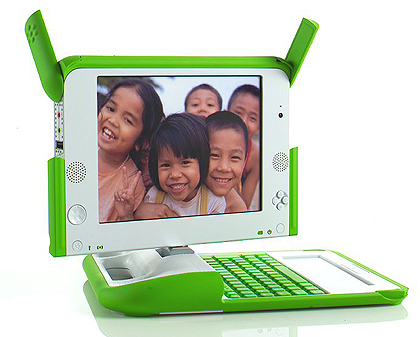 The OLPC Laptop
The laptop was designed to help stimulate and educate millions of kids in countries that would not otherwise have access to computers. (Image courtesy of the One Laptop Per Child Association, www.laptop.org)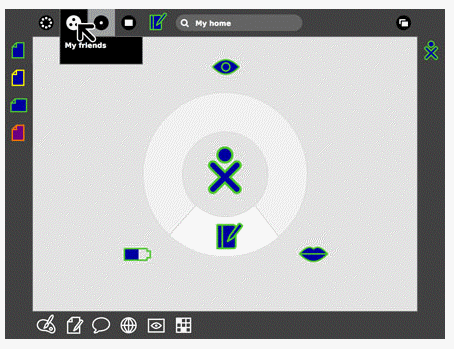 An XO Machine Running Sugar
Since the OLPC's logo is an abstract person (X for the body; O for the head), the OLPC is called the "XO" computer. Its graphical interface is "Sugar," which boots up with icons of friends and activities. See XO computer. (Image courtesy of One Laptop Per Child Association, www.laptop.org)
Copyright © 1981-2019 by The Computer Language Company Inc. All Rights reserved. THIS DEFINITION IS FOR PERSONAL USE ONLY. All other reproduction is strictly prohibited without permission from the publisher.