stirrup
(redirected from étrier)
Also found in:
Dictionary
,
Thesaurus
,
Medical
.
stirrup
stirrup, foot support for the rider of a horse in mounting and while riding. It is a ring with a horizontal bar to receive the foot and is attached by a strap to the saddle. To avoid the danger of having a foot caught in a stirrup if the rider is thrown, large stirrups are often used; one of the uses of the stirrup cover or stirrup hood is to prevent the foot from entering too far and getting caught; the same purpose is served by the high heels of the cowboy's boots. There is some evidence that stirrups were used in Assyria c.850 B.C. and in China as early as the Han dynasty, 202 B.C.–A.D. 220. Stirrups are not known to have been used in Europe before the raids of the Huns under Attila in the mid-5th cent.; probably they had their origin in central Asia.
The Columbia Electronic Encyclopedia™ Copyright © 2022, Columbia University Press. Licensed from Columbia University Press. All rights reserved.
Stirrup
In concrete construction, reinforcement to resist shear; normally consists of a U-shaped bar, anchored to the longitudinal side and placed perpendicular to it.
Illustrated Dictionary of Architecture Copyright © 2012, 2002, 1998 by The McGraw-Hill Companies, Inc. All rights reserved
The following article is from The Great Soviet Encyclopedia (1979). It might be outdated or ideologically biased.
Stirrup
a support for a horseman's feet while riding and mounting. A stirrup consists of a flat or somewhat curved horizontal bar that goes under the rider's foot and an arc with a loop or opening for the strap on top. Stirrups hang freely on straps on both sides of the saddle. Metal stirrups, which appeared in the fourth and fifth centuries, were preceded by soft leather loops. Stirrups are usually made of iron, but bronze stirrups were also sometimes used in the early Middle Ages. In the past, show stirrups were adorned with embossments, appliqués, and inlays of precious metals. [24—1687—1]
The Great Soviet Encyclopedia, 3rd Edition (1970-1979). © 2010 The Gale Group, Inc. All rights reserved.
stirrup
[

′stər·əp

]

(civil engineering)

In concrete construction, a U-shaped bar which is anchored perpendicular to the longitudinal steel as reinforcement to resist shear.

(mining engineering)

A piece of steel hung from a gallows frame to engage the endgate hooks when a mine car is tilted over; used at dumps.

A screw joint suspended from the brakestaff of a spring pole, by which the boring rods are adjusted to the depth of the borehole. Also known as temper screw.

McGraw-Hill Dictionary of Scientific & Technical Terms, 6E, Copyright © 2003 by The McGraw-Hill Companies, Inc.
stirrup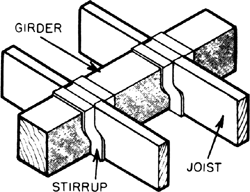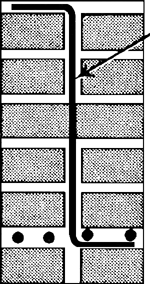 2. A bent rod, usually U-shaped or W-shaped; used in reinforced brick or concrete construction.
3. A reinforcing device to resist shear and diagonal tension stresses in a beam.
4. A metal seat, attached to a wall beam or post or hung from a girder, to receive and support a beam or joist.
McGraw-Hill Dictionary of Architecture and Construction. Copyright © 2003 by McGraw-Hill Companies, Inc.
stirrup
1. either of two metal loops on a riding saddle, with a flat footpiece through which a rider puts his foot for support. They are attached to the saddle by stirrup leathers
2. Nautical one of a set of ropes fastened to a yard at one end and having a thimble at the other through which a footrope is rove for support
3.
the usual US name for
étrier
Collins Discovery Encyclopedia, 1st edition © HarperCollins Publishers 2005