Booster
(redirected from -boosters)
Also found in:
Dictionary
,
Thesaurus
,
Medical
.
booster
1.
Radio
Television
a. a radio-frequency amplifier connected between an aerial and a receiver to amplify weak incoming signals
b. a radio-frequency amplifier that amplifies incoming signals, retransmitting them at higher power
Collins Discovery Encyclopedia, 1st edition © HarperCollins Publishers 2005
The following article is from The Great Soviet Encyclopedia (1979). It might be outdated or ideologically biased.
Booster
a device for increasing fluid pressure; it consists of two interconnected cylinders (see Figure 1).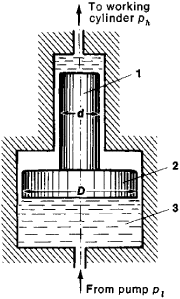 In the low-pressure cylinder of a booster there is a piston of large diameter D connected to a plunger of small diameter d in the high-pressure cylinder. The resultant pressure ph, will be (D2/d2) times greater than the initial pressure pi (a factor of 40–60). Boosters, mainly of the hydraulic type, have limited use in modern hydraulic presses (to increase the compression force) and in pneumatic-hydraulic amplifiers (in multiple-point clamping devices for machine tools).
The Great Soviet Encyclopedia, 3rd Edition (1970-1979). © 2010 The Gale Group, Inc. All rights reserved.
booster
[

′büs·tər

]

(aerospace engineering)

(electricity)

A small generator inserted in series or parallel with a larger generator to maintain normal voltage output under heavy loads.

(electronics)

A separate radio-frequency amplifier connected between an antenna and a television receiver to amplify weak signals.

A radio-frequency amplifier that amplifies and rebroadcasts a received television or communication radio carrier frequency for reception by the general public.

(immunology)

The dose of an immunizing agent given to stimulate the effects of a previous dose of the same agent.

(mechanical engineering)

A compressor that is used as the first stage in a cascade refrigerating system.

(ordnance)

An assembly of metal parts and explosive charge provided to augment the explosive component of a fuse, to cause detonation of the main explosive charge of the munition.

McGraw-Hill Dictionary of Scientific & Technical Terms, 6E, Copyright © 2003 by The McGraw-Hill Companies, Inc.
Booster
A data-parallel language.

"The Booster Language", E. Paalvast, TR PL 89-ITI-B-18, Inst voor Toegepaste Informatica TNO, Delft, 1989.
This article is provided by FOLDOC - Free Online Dictionary of Computing (foldoc.org)