IC
(redirected from -ic)
Also found in:
Dictionary
,
Thesaurus
,
Medical
,
Financial
,
Wikipedia
.
IC
Abbrev. for Index Catalog. See NGC.
IC
(hardware)
IC
(2)

Independent Carrier.
IC
(3)

Imperial College.
information center
A division within the IT department that supports end-user computing. It is responsible for training users in applications and solving related personal computer problems. The term was widely used when personal computers exploded onto the scene in the 1980s. Today, the term may refer to any type of information source, which is precisely what it sounds like.
---
integrated circuit
The formal name of the chip. An integrated circuit (IC) combines multiple transistors, resistors and capacitors on a single substrate. Prior to integrated circuits, these electronic components were discrete devices wired to each other on a printed circuit board.

In 1958, Texas Instruments inventor Jack Kilby demonstrated the concept. Although integrated circuits did not become commercialized until Robert Noyce of Fairchild Semiconductor developed his silicon-based device a couple months later, Kilby's circuit proved that multiple electronic devices could be constructed as a single unit. See chip, microcontroller and transistor.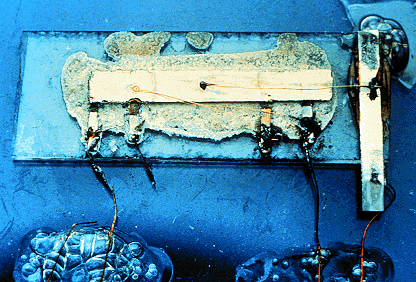 The First Integrated Circuit
Demonstrated by TI in September 1958, this half-inch wide, archaic-looking collection of transistor, capacitor and two resistors mounted on a bar of germanium was the first IC. (Image courtesy of Texas Instruments, Inc.)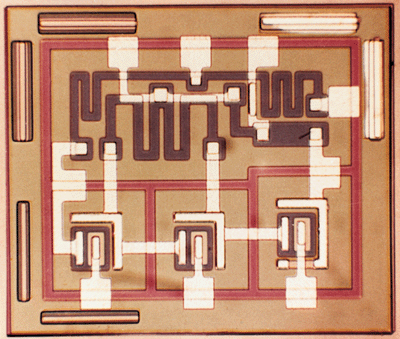 Seven Years Later - Three Transistors
This amplifier circuit from Siemens was mass produced in 1965. Containing three transistors and five resistors on a 1.5 square millimeter chip, it was a world of sophistication compared to Kilby's invention. (Image courtesy of Siemens AG, www.siemens.com)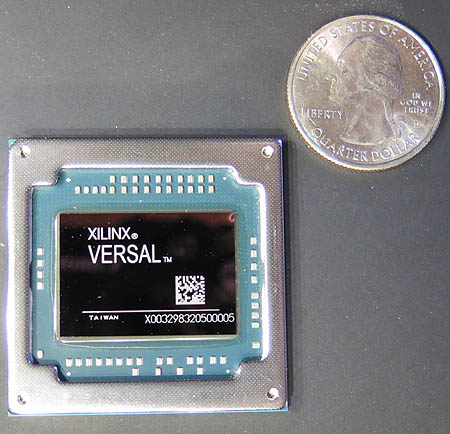 A Half Century Later - 35 Billion Transistors
Xilinx's Versal chip includes multiple CPUs, RAM and an FPGA section comprising configurable circuits (see FPGA and Versal).
---
Interoperability Clearinghouse
An organization supported by the U.S. government and private companies to ensure interoperability between information systems. Formed in late 1998, its goal is to provide a mechanism that validates the interoperability of software including applications, programming languages, databases, object technology and network protocols. For information, visit www.ichnet.org.