skirt
(redirected from -skirted)
Also found in:
Dictionary
,
Thesaurus
.
skirt
1. a frieze or circular flap, as round the base of a hovercraft
2. the flaps on a saddle that protect a rider's legs
3. NZ the lower part of a sheep's fleece
skirt
[

skərt

]

(aerospace engineering)

(building construction)
skirt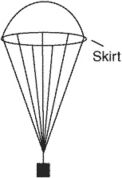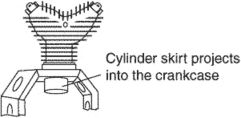 i
. The lower portion of a parachute canopy.
ii
. The extension of the lower portion of the cylinder of a reciprocating engine below the cylinder base flange into the crankcase. This reduces the overall diameter of the engine; aids lubrication of the cylinders; and permits a more uniform control of the used oil scraper ring, a larger crankcase diameter, and a good seal between the cylinder hold-down flange and the crankcase.