stringer
(redirected from -stringer)
Also found in:
Dictionary
,
Thesaurus
.
stringer
1. Architect a long horizontal beam that is used for structural purposes
2. Nautical a longitudinal structural brace for strengthening the hull of a vessel
Stringer
A horizontal piece of timber or steel that connects the uprights in a framework and supports the floor; the inclined member that supports the treads and risers of a stair.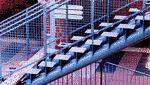 Stringer
a longitudinal member used in the frames of, for example, ships, aircraft, and railroad cars. Stringers usually take the form of flat wood or metal girders. The outer plating of the structure is riveted, welded, or cemented to stringers connected to such transverse members as ribs and beams.
stringer
[

′striŋ·ər

]

(civil engineering)

A long horizontal member used to support a floor or to connect uprights in a frame.

An inclined member supporting the treads and risers of a staircase.

(geology)

(metallurgy)

An elongated mass of microconstituents or foreign material in wrought metal oriented in the direction of working.
stringer
3. A long, heavy horizontal timber which connects the posts in a frame which supports a floor.
stringer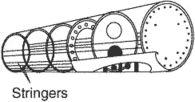 A part of the aircraft fuselage and wing structure that acts as a stiffener and assists the skin to carry direct loads in the direction of its length. A stringer is a thin wooden or metallic strip running along the length of the fuselage or a wing.