phone connector
(redirected from 1/4" connector)
phone connector
(1) For telephone connections, see RJ-11.

(2) Also called a "quarter-inch" or "6.3mm" plug and socket, the phone connector is widely used to connect microphones, headphones and musical instruments to audio equipment. Phone connectors and their mini-phone counterparts are commonly called "audio jacks." See mini-phone connector, RCA connector, A/V ports and plugs and sockets.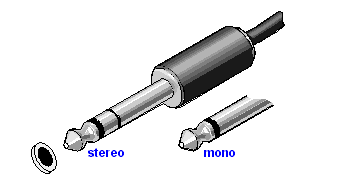 Phone Connectors
Stereo plugs are identified by the three divisions in their prong; monaural plugs have only two. Plugs are also identified by TS, TRS and TRRS designations (see tip and ring).