Web bug
(redirected from 1-by-1 GIF)
Web bug
Also called a "Web beacon," "pixel tag," "clear GIF" and "invisible GIF," it is a method for passing information from the user's computer to a third party website. Used in conjunction with cookies, Web bugs enable information to be gathered and tracked in the stateless environment of the Internet. The Web bug is typically a one-pixel, transparent GIF image, although it can be a visible image as well. As the HTML code for the Web bug points to a site to retrieve the image, it can pass along information at the same time.

Web bugs can be placed into an HTML page used for email messages as most mail programs support the display of HTML pages. See email tracker, cookie, state and anonymous proxy.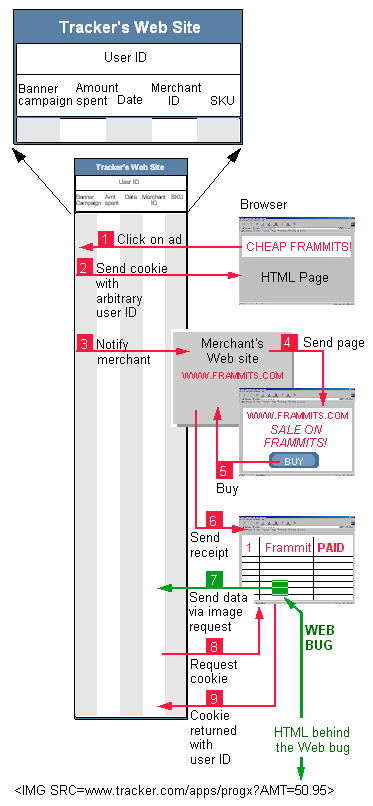 A Web Bug Scenario
There are myriad ways in which Web bugs can be used. This example uses a third-party tracking site to determine how much merchandise was purchased for a particular banner ad campaign. In scenarios such as these, the individual users may still remain anonymous, even though their buying habits are disclosed.
Copyright © 1981-2019 by The Computer Language Company Inc. All Rights reserved. THIS DEFINITION IS FOR PERSONAL USE ONLY. All other reproduction is strictly prohibited without permission from the publisher.