Magstar
(redirected from 18-track)
Magstar
A high-performance half-inch magnetic tape technology from IBM. Designated 3590 and enhancing the 3480 line, Magstar provides ESCON and SCSI connectivity to IBM mainframes and midrange systems. Tape libraries are available that hold from a handful to thousands of cartridges.

The 3480
In 1984, the 3480 was a breakthrough magnetic tape technology, providing more storage in a 4x5x1" cartridge than in 10.5" reels, the common tape housing at that time. In addition, the drives took up half the floor space. In 1995, the new 3590 line was branded Magstar. See Magstar MP, half-inch tape and magnetic tape.


# of    Tape    RawType    Year  Tracks  Length  Capacity3590 Magstar

 3590H   2002   284    320 m    30GB
 3590E   1998   256    300 m    20GB
 3590B   1995   128    300 m    10GB

 34xx

 3490E   1991    36    300 m   800MB
 3490    1989    18    160 m   400MB
 3480    1984    18    160 m   200MB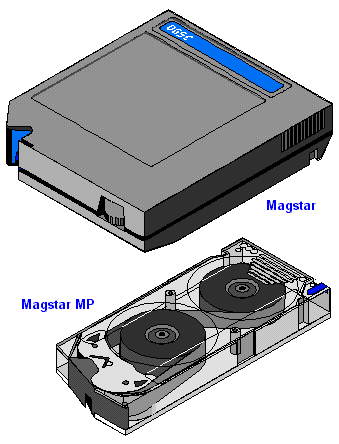 Magstar Cartridges
Magstar and Magstar MP are different. Magstar uses a half-inch, single-hub cartridge, while Magstar MP uses an 8mm cassette-style cartridge that starts mid-tape for faster retrieval. Both use linear recording. See Magstar MP.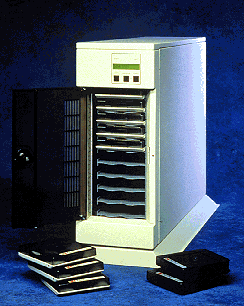 L490E Tape Library
This earlier tape library from Overland Data reads and writes 3490 cartridges. Overland Data's tape drives were the first to support multiple cartridge formats. (Image courtesy of Overland Data Inc.)