iPod
(redirected from 4G iPod)
Also found in:
Dictionary
,
Thesaurus
,
Medical
.
iPod
(1) See also iPad, Apple's tablet.

(2) A digital media player from Apple. Introduced in 2001, several models were offered; however, the iPod touch is the only surviving iPod on the market. The touch is like an iPhone without cellular service (see iPod touch).

Due to the iPod's prominence, the term often refers to any MP3 player, whether from Apple or not (see digital music player). After making Apple hugely profitable by the mid-2000s, iPod sales diminished considerably because iPhones and every other smartphone has built-in music storage and playback.

iTunes Is the Media Manager
Apple's iTunes software for Mac and Windows is used to organize songs, playlists and videos on the iPod and to preview, purchase and download content from Apple's online store. See iTunes.

Music Files and Formats
iPods play MP3 music, but songs downloaded from the iTunes store are in the AAC format. Although touted as having superior sound quality, a major reason for using AAC was its copy protection, which Apple dropped in 2009.

MP3 and AAC formats are roughly 10% the size of the original CD tracks; however, users may opt to rip their CDs to the Apple Lossless format for better sound quality, despite being five times the size (see Apple Lossless).

iPods do not support the Microsoft Windows Media Audio (WMA) format. However, numerous utilities convert WMA to MP3, and the Windows version of iTunes converts WMA to all formats that iTunes and the iPod support. See MP3, AAC and WMA.

History
The combination of sound quality and unique click wheel control made the iPod one of the most successful consumer electronics (CE) products in history, especially after iTunes became available on Windows. In the iPod's first five years, 100 million units were sold along with 1.5 billion songs. See click wheel.

Originally a monochrome device for music only, color screens and support for photos and videos were added. In 2007, the iPod touch was a full-fledged handheld computer. For details of current and previous iPods, see iPod models, iPod classic, iPod touch, iPod nano and iPod shuffle.

Batteries
The rechargeable battery in the iPod is sealed and must be sent to Apple for replacement, which is free under warranty. However, non-Apple sources offer replacement batteries and instructions for opening the case. See iCloud, iPod compatible, iPod finger, iPod car adapter, car podding and pod slurping.

A/V and Image Formats
Except for the shuffle, which has no screen, iPods support popular image formats, including JPEG, GIF, BMP, TIFF and PNG. The classic and touch both support MPEG-4 and H.264 video. Following are the iPod's audio formats.

iPOD AUDIO FORMATS                       classic,                       nano,  Formats              touch   shuffle

  MP3                     X       X
  MP3 VBR                 X       X
  AAC                     X       X
  HE-AAC (aacPlus)        X
  Audible                 X       X
  Audible Enhanced (AAX)  X       X

  Apple Lossless          X       X
  AIFF                    X       X
  WAV                     X       X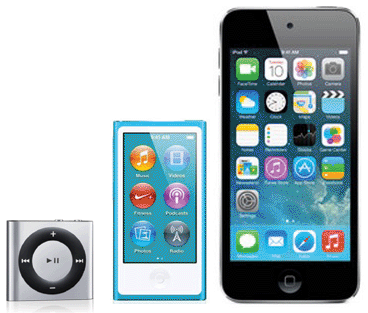 iPod Models
From left to right: shuffle, nano and touch. For specifications, see iPod models. (Images courtesy of Apple Inc.)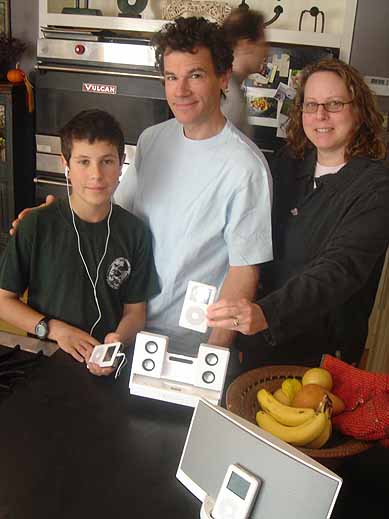 iPoddery
By 2004, the iPod became the hottest electronic gadget on the market. This rural Vermont family delighted in showing their "iPoddery," including the Bose table top speaker system (right) and the portable Altec Lansing unit that let our young hero carry his own iPod boom box.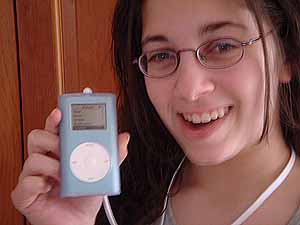 A Girl's Best Friend
What did a 13-year-old crave for her birthday in 2004? An iPod Mini... of course.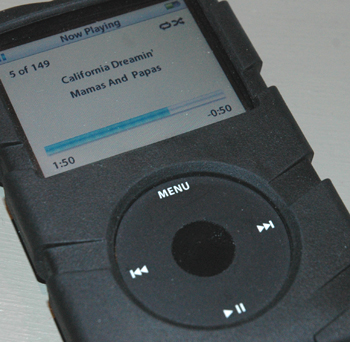 The Click Wheel
The iPod's original wheel rotated, but this second-generation wheel is stationary and touch sensitive. It is clicked at top, bottom, left and right but rotated by touch in a circular motion. However, the iPod touch introduced an entirely new interface and is the only iPod on the market.
Copyright © 1981-2019 by The Computer Language Company Inc. All Rights reserved. THIS DEFINITION IS FOR PERSONAL USE ONLY. All other reproduction is strictly prohibited without permission from the publisher.