WirelessHD
(redirected from 60GHz)
WirelessHD
(WIRELESS High Definition) A short-range wireless video technology from the WirelessHD Consortium. Using the unlicensed 60 GHz band, WirelessHD (WiHD) transmits 1080p HD video from a data source to a TV within approximately 30 feet. With a data rate of 28 Gbps, Version 2.0 of the standard is capable of handling very high-speed data, including 3D and 4K video resolutions.

At 60 GHz, the five-millimeter wavelength is highly directional. However, in 2007, SiBEAM demonstrated CMOS chips that can bounce the signal off walls and objects using an array of up to 36 antennas on a 1" square surface. For more information, visit www.wirelesshd.com. See wireless USB, WiGig, WHDI and ISM band.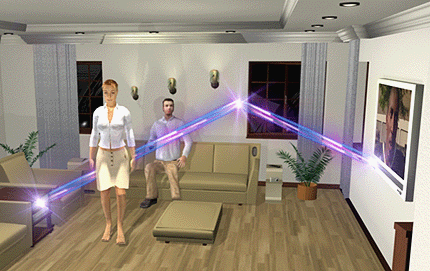 Automatic Redirection
As soon as a person interrupts the signal, WirelessHD uses another route to reach the TV; in this example by bouncing off the back wall. Using beamforming techniques, the transmitter is constantly scanning for alternate pathways to the receiver in order to make a quick switch if necessary (see beamforming). (Image courtesy of WirelessHD, LLC, www.wirelesshd.com)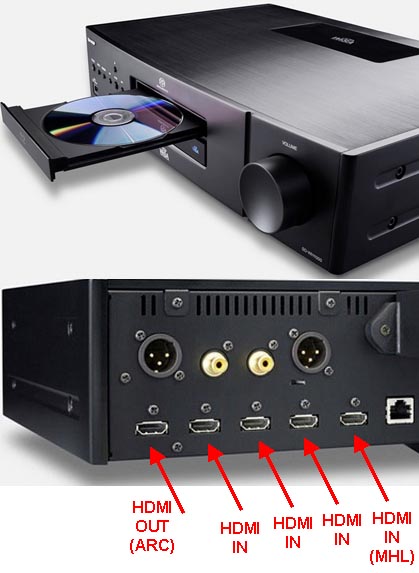 The Wireless Home Theater
Introduced in 2014, Sharp's SD-WH1000U Blu-ray player offered the total wireless solution with WiHD wireless for video and WiSA wireless for audio. See WiSA. (Images courtesy of Sharp Electronics Corporation, www.sharpusa.com)
Copyright © 1981-2019 by The Computer Language Company Inc. All Rights reserved. THIS DEFINITION IS FOR PERSONAL USE ONLY. All other reproduction is strictly prohibited without permission from the publisher.