dual-band router
(redirected from A/B/G/N router)
dual-band router
An 802.11 (Wi-Fi) router that uses the 2.4 GHz and 5 GHz frequency bands. Prior to 802.11n, dual-band routers handled 802.11a users in the 5 GHz band, while simultaneously supporting 802.11b and 802.11g users in the 2.4 GHz band.

Dual-Band N Routers
A dual-band N router supports both bands for 11n, as well as previous 802.11 standards (a, b and g). Such routers can provide load balancing; for example, data might be configured to transmit on the 2.4 GHz band (SSID #1), while video uses the 5 GHz band (SSID #2). See wireless router, 802.11n, 802.11ac, 802.11, Wi-Fi designations and SSID.


802.11    Frequency   Standard     Band

     11a       5 GHz

     11b       2.4 GHz
     11g       2.4 GHz

     11n       2.4 GHz and 5 GHz

     11ac      5 GHz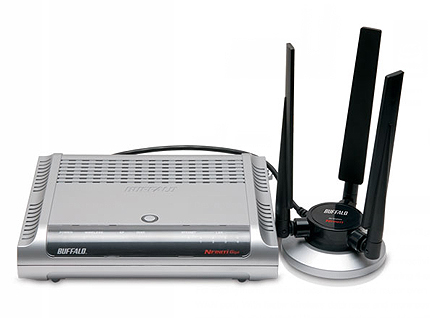 Simultaneous Routing in Both Bands
Buffalo Technology's Nfinity Dual Band router simultaneously runs 11n and 11a at 5 GHz along with 11n and 11b/g at 2.4 GHz. To balance the network load, network administrators determine which band to dedicate to 11n users. (Image courtesy of Buffalo Technology Inc., www.buffalotech.com)
Copyright © 1981-2019 by The Computer Language Company Inc. All Rights reserved. THIS DEFINITION IS FOR PERSONAL USE ONLY. All other reproduction is strictly prohibited without permission from the publisher.