ASIC
Also found in:
Dictionary
,
Thesaurus
,
Medical
,
Legal
,
Acronyms
.
ASIC
(Application Specific Integrated Circuit) Pronounced "a-sick," an ASIC is a chip that is custom designed for a specific purpose. It is typically created for and used by one company. However, an ASIC used by many companies is called an "application specific standard part" (see ASSP).

Full Custom ASIC
A full custom ASIC is "hardwired" for a specific job and does not incur the overhead of fetching and interpreting stored instructions like a general-purpose CPU. Designers have total control over every transistor and can fine tune the logic to perform operations as fast as possible. However, they are less relevant today because they are expensive to design and generally created only when huge quantities are required.

Standard Cell ASIC
In contrast, a standard cell ASIC is custom-created by using existing designs from circuit libraries. A standard cell ASIC typically includes one or more general-purpose microprocessor cores along with software embedded in firmware. This "system on a chip" (SoC) fetches and interprets (executes) instructions like every general-purpose CPU. However, no matter which type of ASIC, they all use a custom-designed mask for every layer in the manufacturing of the chip. See standard cell, SoC and firmware.

Other Alternatives
Gate arrays, standard cell ASICs and "structured ASICs" (pre-designed logic blocks) turn circuit designs into working chips much faster than full custom ASICs and at less cost. Such chips have greatly improved in speed over the years and provide the necessary performance for many applications. See gate array, structured ASIC, FPGA, ASSP, PLD, adaptive computing and CSIC.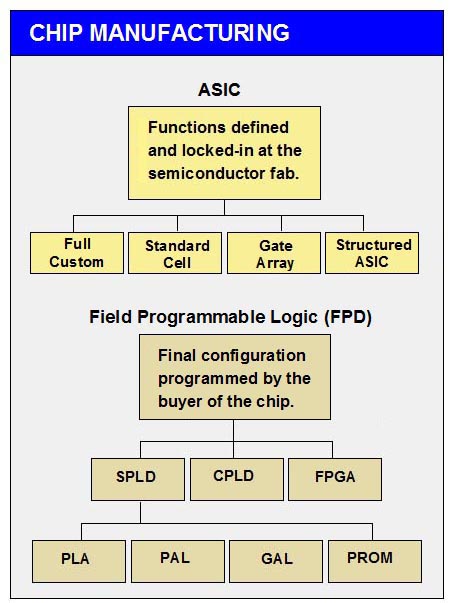 Types of ASICs
ASICs can be defined as made in a semiconductor fab only or they can embrace the programmable logic market as well. (Diagram courtesy of Clive Maxfield.)