DVD
(redirected from AUDIO TS)
Also found in:
Dictionary
,
Thesaurus
,
Medical
.
DVD:
see digital versatile discdigital versatile disc
or digital video disc
(DVD), a small plastic disc used for the storage of digital data. The successor media to the compact disc (CD), a DVD can have more than 100 times the storage capacity of a CD.
.....

Click the link for more information.

.

The Columbia Electronic Encyclopedia™ Copyright © 2013, Columbia University Press. Licensed from Columbia University Press. All rights reserved.

www.cc.columbia.edu/cu/cup/
DVD
(communications)
An optical disk that has formats for audio, video, and computer storage applications, and that uses the same basic structure as the compact disk (CD) to store data, but achieves a greater storage capability by using a track pitch less than half that of the CD, pits and lands as little as half as long as the shortest on a CD, and two substrates, bonded together. Derived from digital versatile disk; digital video disk.
McGraw-Hill Dictionary of Scientific & Technical Terms, 6E, Copyright © 2003 by The McGraw-Hill Companies, Inc.
DVD
This article is provided by FOLDOC - Free Online Dictionary of Computing (foldoc.org)
DVD
The standard-definition (SD) optical disc format. Introduced in the U.S. in 1997 and developed by the computer and movie industries, the disc has the same 120mm/4.75" diameter as a CD but holds 4.7GB rather than 700MB. Whereas CDs use only one side, DVDs can be recorded on both sides as well as in dual layers. DVDs have 480 lines of resolution in the U.S. (NTSC) and 576 lines elsewhere (PAL). For high-definition (HD) optical discs with 1,080 lines of resolution, see Blu-ray.

DVD first stood for "digital videodisc;" then "digital versatile disc" and finally just "D-V-D." In practice, DVD refers to all the following DVD formats. Modern DVD drives read and write all CD and DVD formats, except for DVD-RAM, which requires its own drive. For DVD speed ratings (1x, 2x, etc.), see DVD drives. See CSS, DVD region codes and optical disc.

DVD-Video - SD Movies
DVD-Video is the movie format, which uses MPEG-2 compression to provide approximately two hours of video per side at 480i resolution. Blu-ray players also play DVD movies. See DVD-Video, DTV and Blu-ray.

DVD-ROM - Read-Only Data
DVD-ROMs hold data permanently, and like CD-ROMs, they are pressed at the factory. See DVD-ROM.

DVD-R/DVD+R - Recordable (burnable)
DVD-R and DVD+R are competing write-once formats for burning movies or data. They function like high-capacity CD-R discs. DVD-R DL and DVD+R DL are dual layer discs with twice the capacity. See DVD-R and DVD+R.

DVD-RW/DVD+RW - Rewritable
DVD-RW and DVD+RW are competing formats that can be rewritten 1,000 times. Aimed at the consumer, 1,000 rewrites are considered adequate. See DVD-RW and DVD+RW.

DVD-RAM - Rewritable
A DVD-RAM functions like a removable hard disk with a similar file structure. Although DVD-RAMs can be rewritten 100,000 times before they are no longer usable, they are not a popular medium. See DVD-RAM.

DVD-Audio - High-Quality Music
DVD-Audio was designed to supersede the music CD, but like its SACD counterpart, never caught on. However, downloable music is available at the same sampling rates as DVD-Audio. See DVD-Audio and high-resolution audio.

Plus and Minus: +R, +RW, -R, -RW
The formats endorsed by the DVD Forum have a hyphen in their names and are verbalized as "DVD Minus" or "DVD Dash." The competing formats from the DVD+RW Alliance use a plus sign. Starting in 2002, drives supporting both formats were introduced. See DVD Forum and DVD+RW Alliance.

For drive specifications (2x, 4x, 8x, etc.), see DVD drives. For DVD storage specifications, see DVD storage capacities.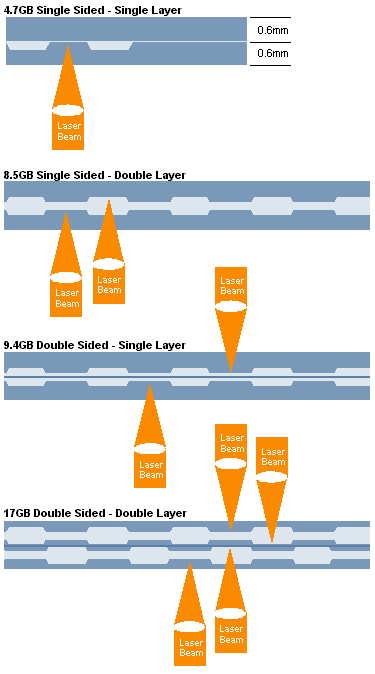 Sides and Layers
DVDs come in any combination of single or double sided with single or double layers. This shows the laser beam contacting the recorded surface in all of the possibilities.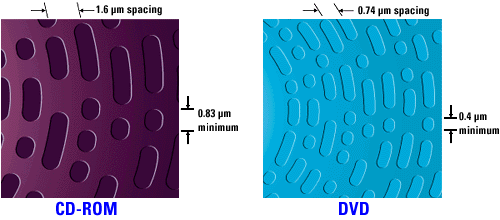 DVD vs. CD-ROM
At minimum, the capacity of a DVD is seven times that of a CD-ROM because its tracks, pits and lands are more than twice as dense. It also uses more efficient recording algorithms. Add a second layer or record on both sides of the DVD, and capacity is doubled. (Image courtesy of C-Cube Microsystems.)
Copyright © 1981-2019 by The Computer Language Company Inc. All Rights reserved. THIS DEFINITION IS FOR PERSONAL USE ONLY. All other reproduction is strictly prohibited without permission from the publisher.