Abilene
(redirected from Abelene)
Also found in:
Dictionary
,
Thesaurus
.
Abilene
(ăb`ĭlēn)

. 1 City (1990 pop. 6,242), seat of Dickinson co., central Kans., on the Smoky Hill River; inc. 1869. It was (1867–71) a railhead for a large cattle-raising region extending SW into Texas. Millions of cattle followed the Chisholm TrailChisholm Trail,
route over which vast herds of cattle were driven from Texas to the railheads in Kansas after the Civil War. Its name is generally believed to come from Jesse Chisholm, a part-Cherokee trader who, in the spring of 1866, drove his wagon, heavily loaded with
.....

Click the link for more information.

into the cow town's stockyards prior to shipment. "Wild Bill" HickokHickok, Wild Bill,
1837–76, American frontier marshal, b. Troy Grove, near Ottawa, Ill., as James Butler Hickok. He took part in the Kansas struggle preceding the Civil War, was a driver of the Butterfield stage line, and gained fame as a gunfighter, his skill increased by
.....

Click the link for more information.

was Abilene's marshal for a time. The city, a still shipping point for a wheat and cattle region, has feed and flour mills. Abilene was the boyhood home of President Dwight D. EisenhowerEisenhower, Dwight David
, 1890–1969, American general and 34th President of the United States, b. Denison, Tex.; his nickname was "Ike." Early Career

When he was two years old, his family moved to Abilene, Kans., where he was reared.
.....

Click the link for more information.

; the Eisenhower Center includes his old family homestead, a museum, the Eisenhower Library, and his grave. 2 City (1990 pop. 106,654), seat of Taylor co., W central Tex.; inc. 1882. Buffalo hunters first settled there; the town, which was founded in 1881 with the coming of the railroad, was named after Abilene, Kans. Abilene grew as a shipping point for cattle ranches and has become the financial, commercial, and educational center of a large part of W Texas. The city's diversified manufactures include electronic, aircraft, and missile components; oil-field and agricultural equipment; food and dairy products; clothing; metals; and musical instruments. Livestock (cattle, sheep, and poultry); agriculture (cotton, wheat, sorghum, and hay); and minerals (oil, natural gas, caliche, sand, gravel, and clays) are important to the area's economy. Regional petroleum industry headquarters are in Abilene, and Hardin-Simmons Univ., Abilene Christian Univ., and McMurry College are there.

The Columbia Electronic Encyclopedia™ Copyright © 2013, Columbia University Press. Licensed from Columbia University Press. All rights reserved.

www.cc.columbia.edu/cu/cup/
Abilene
The first IP backbone for Internet2, which began in 1997. Peering with other research networks both in the U.S. and internationally, Abilene started out at 2.5 Gbps but was upgraded to 10 Gbps by 2004. In 2007, after additional infrastructure was deployed with speeds up to 100 Gbps, the network was renamed Internet2 Network.

Abilene was a partnership of Internet2, Qwest Communications, Cisco Systems, Nortel Networks, Juniper Networks and Indiana University. Regional nodes were called "GigaPOPs," which served as data entry and switching points to all members. The first GigaPOP was deployed in Research Triangle Park, North Carolina in late 1997. See Internet2.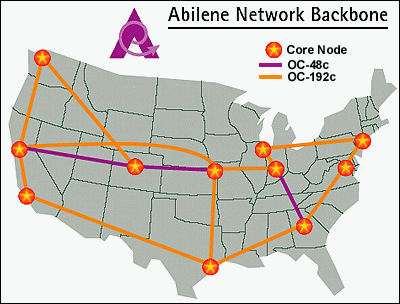 The Abilene Network
Starting out much like the original Internet, Abilene was composed of high-speed trunks across the United States. (Image courtesy of Internet2.)
Copyright © 1981-2019 by The Computer Language Company Inc. All Rights reserved. THIS DEFINITION IS FOR PERSONAL USE ONLY. All other reproduction is strictly prohibited without permission from the publisher.