acanthus
(redirected from Acanthos)
Also found in:
Dictionary
,
Thesaurus
.
acanthus
(əkăn`thəs)

, common name for a member of the Acanthaceae, a family of chiefly perennial herbs and shrubs, mostly native to the tropics. A few members of the family, many of which have decorative spiny leaves, are cultivated as ornamentals—especially the Mediterranean acanthus, or bear's-breech (genus Acanthus), whose ornate leaves were the source of a stylized motif used in Greek and Roman art (see Corinthian orderCorinthian order,
most ornate of the classic orders of architecture. It was also the latest, not arriving at full development until the middle of the 4th cent. B.C. The oldest known example, however, is found in the temple of Apollo at Bassae (c.420 B.C.).
.....

Click the link for more information.

). In Christian art the acanthus symbolizes heaven. Some species of the genus Ruellia are native to and cultivated as ornamentals in North America, chiefly in the South. Acanthus is classified in the division MagnoliophytaMagnoliophyta
, division of the plant kingdom consisting of those organisms commonly called the flowering plants, or angiosperms. The angiosperms have leaves, stems, and roots, and vascular, or conducting, tissue (xylem and phloem).
.....

Click the link for more information.

, class Magnoliopsida, order Scrophulariacles.
Acanthus
a genus of herbs and, more rarely, bushes of the Acanthaceae family.
Acanthus leaves usually form a rosette and are very large, simple, often pinnately cut, sinuate, and prickly. The blossoms of the dense top circle are usually white, red, or light blue; the bracts are large, prickly, and dented.
There are about 40 species of the acanthus in the warm regions of Asia, in Africa, and in the Mediterranean area. The acanthus is often grown for decoration in the southern USSR. The shape of the leaves of the Acanthus molis, Acanthus spinosus, and Acanthus syriacus is used as ornamentation in Corinthian and Composite capitals, moldings, and acroterions, and in the ornamentation of friezes and cornices.
acanthus
[

ə′kan·thəs

]

(architecture)

A sculptured ornamentation representing the leaves of an Acanthus, a Mediterranean prickly herb.
acanthus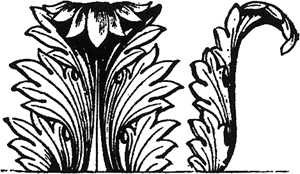 A common plant of the Mediterranean, whose leaves, stylized, form the characteristic decoration of capitals of Corinthian and Composite orders. In scroll form it appears on friezes, panels, etc.
acanthus
1. any shrub or herbaceous plant of the genus Acanthus, native to the Mediterranean region but widely cultivated as ornamental plants, having large spiny leaves and spikes of white or purplish flowers: family Acanthaceae
2. a carved ornament based on the leaves of the acanthus plant, esp as used on the capital of a Corinthian column