page table
(redirected from Address table)
page table
[

′pāj 'tā·bəl

]

(computer science)

A key element in the virtual memory technique; a table of addresses where entries are adjusted for easy relocation of pages.

McGraw-Hill Dictionary of Scientific & Technical Terms, 6E, Copyright © 2003 by The McGraw-Hill Companies, Inc.
virtual memory
Simulating more random access memory (RAM) than actually exists, allowing the computer to run larger programs and multiple programs concurrently. A common function in most every OS and hardware platform, virtual memory uses storage (hard drive or SSD) to temporarily hold what was in RAM.

Virtual memory allows multiple programs to load in RAM at the same time. Each application addresses RAM starting at zero, but virtual memory takes control of the RAM addressing and lets each application function as if it had unlimited RAM.

Note that virtual "memory" and virtual "machine" are not the same. Virtual memory is used all the time, whereas a virtual machine is an optional approach for running applications and pertains mostly to servers (see virtual machine).

Virtual Memory Pages
The computer's real memory (RAM) is broken up into smaller segments, called "pages," typically 4KB in size. When RAM fills up, pages not currently in use by open applications are written to storage in a virtual memory "swap file." When any swapped out page in storage is required again, once again a page in RAM is written to storage to make room, and the required page in storage is retrieved.

RAM is the computer's workspace, and since there is often several hundred times more storage space than RAM space, virtual memory dramatically increases the computer's capacity to do work. However, there is a penalty. When a user has too many open programs, there can be excessive amounts of page swapping, causing applications to slow down. In addition, switching between applications is no longer instantaneous (see thrashing).

Hardware Is Required
Virtual memory can be implemented in software only, but efficient operation requires specialized hardware circuits. All modern, general-purpose CPUs have memory management units (MMUs) that support virtual memory. They provide "page tables" that are used to translate between the program's "virtual" addresses and the "real" addresses in RAM and storage, which may change at any time. Although a program may initially load as a contiguous block of code, it can wind up in pages randomly scattered around RAM.

Virtual memory claims are sometimes made for specific applications that bring additional parts of the program in as needed; however, true virtual memory is built into the operating system and hardware and works with all applications. See Windows swap file.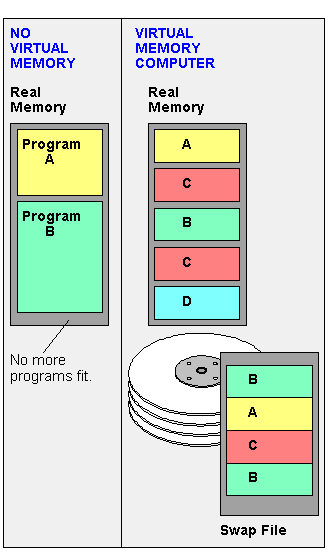 Memory Is Extended to Storage
Virtual memory allows more programs to be opened simultaneously by using the hard drive or solid state drive (SSD) as temporary storage of RAM pages.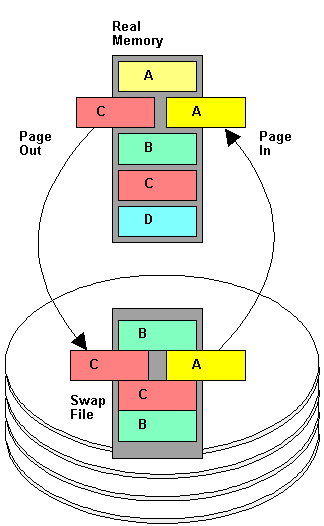 Page Out, Page In
When RAM (real memory) is full and the current program needs instructions that are not in RAM, pages are swapped. In this example, program A needs a page from the disk, and a page from program C is swapped out to make room.
Copyright © 1981-2019 by The Computer Language Company Inc. All Rights reserved. THIS DEFINITION IS FOR PERSONAL USE ONLY. All other reproduction is strictly prohibited without permission from the publisher.